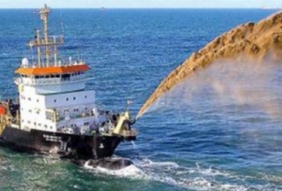 Posted on November 23, 2015
By Santosh Patnaik, The Hindu
After an impressive profit after tax of Rs.19 crore in second quarter as against Rs.3 crore during the same period last year, Dredging Corporation of India is cruising ahead to diversify its operations by undertaking shallow water dredging and sand mining and exploring opportunities abroad.
The company is looking at various dredging projects in Dubai, Abu Dhabi and other areas. "Once we get clearances from the authorities, we will undertake overseas assignments," DCI Chairman and Managing Director Rajesh Tripathi told The Hindu .
"DCI earned a profit of Rs.62 crore with a turnover of Rs.650 crore during 2014-15. This year, it has set a target to achieve a profit of Rs.70 crore with a turnover of Rs.750. "Our aim is to become a navratna company by 2020," Mr. Tripathi said.
READ FULL ARTICLE HERE