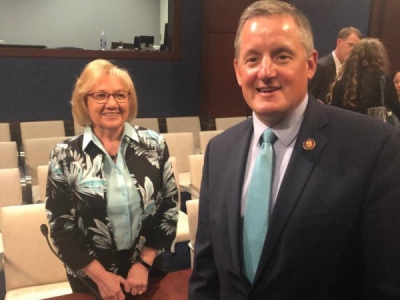 Arkansas? Pine Bluff Sand & Gravel?s Phyllis Harden sharing a moment with Ranking Member, Congressman Bruce Westerman
Posted on April 11, 2019
By Heiko Osterchrist, Associate Publisher, DredgeWire
Phyllis Harden, a Board Member of the Dredging Contractors of America (DCA), testified on Wednesday before the House Transportation and Infrastructure's Water Resources Subcommittee. The hearing focused on the needs of the inland waterways and the Harbor Maintenance Trust Fund (HMTF).
The Hearing took place at the Capitol Visitors Center in Washington, DC. The House Transportation and Infrastructure Water Resources and Environment Subcommittee heard from industry witnesses on Wednesday morning and topic of the discussion was "The Cost of Doing Nothing: Why Full Utilization of the Harbor Maintenance Trust Fund (HMTF) and Investment in Our Nation's Waterways Matter."
Committee Chairman Peter DeFazio (D-OR), has long pushed to require full utilization of the annual receipts from the Harbor Maintenance Trust Fund (HMTF). Such expenditures are called for in WRRDA 14, but not mandated. DeFazio renewed his efforts to fully utilize HMTF collections at 100% utilization and for its intended purpose – maintenance dredging. This was backed up by most of the Congressional Committee members. Mr. DeFazio also called for utilization of the nearly $10 Billion of excess trust funds collected, but not previously utilized for dredging. All the panelists agreed that full utilization of the HMTF for its intended purpose is essential.
DCA Board Member Phyllis Harden of Pine Bluff Sand and Gravel Co. appeared before the committee with Rick Goche, Port of Bandon, Oregon; Gene Seroka, Port of Los Angeles; Bonnie Brady, Long Island Commercial Fishing Association; Kevin Ross, National Corn Growers Association; Peter Stephaich, Campbell Transportation Co., and Kirsten Wallace, Upper Mississippi River Basin Association.
Congressman Bruce Westerman (AR), Ranking Member of the Committee, and an engineer by trade, introduced his fellow Arkansan, Phyllis Harden of Pine Bluff Sand & Gravel. There are a lot of issues facing the inland waterway systems that could use some sound engineering thoughts and principles.

Dredging Contractors of America Board Member Phyllis Harden Testifying before Congress.