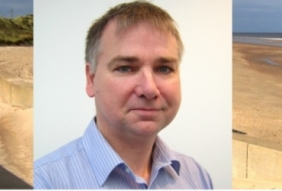 David Finch
Posted on February 1, 2016
ABP Marine Environmental Research Ltd (ABPmer) has appointed David Finch, a coastal and estuarine dynamics specialist, to extend its support to the coastal management and waterside development sectors.
David has over 26 years' experience in the construction, calibration and application of hydrodynamic, wave and sediment transport models and in the specification and supervision of oceanographic surveys.
He has managed and directed large multi-disciplinary projects including beach management works and major port and waterfront developments all over the world, including the UK, Middle East and Caribbean.
Bill Cooper, ABPmer's Managing Director, said: "I'm delighted that David has joined ABPmer. His knowledge, experience and understanding will enhance our offer to the waterside development and coastal management sector.
His appointment affirms our continued growth in services to this sector including coastal process assessments, design criteria feasibility studies and shoreline management/resilience studies. We expect him to provide a strong link between our natural processes and modelling teams as well as valuable input to ABPmer's Middle East business development strategy."
ABPmer has a long history of assisting developers plan, design and implement projects at the coast. Thanks to their multi-disciplined staff, the company can provide a one-stop shop to help clients with design options, consents and licensing, environmental statements and mitigation or compensation measures. Their knowledge is regularly applied to coastal defence schemes, marinas, port developments, power stations and waterside development.