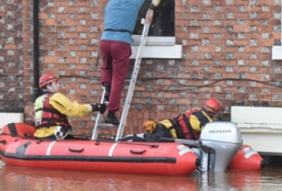 Posted on December 9, 2015
By Sarah Knapton, The Telegraph
Lib Dem leader Tim Farron called on the government to do more to protect communities, claiming that hundreds of flood defence schemes had been branded 'low priority' and shelved.
Flooding which brought chaos to Britain and saw thousands of people evacuated from their homes may have been avoided if the Government had not cancelled hundreds of defence schemes, it was claimed.
Hundreds of families spent the night in Red Cross Shelters as Storm Desmond brought record levels of rainfall to the North of England and Scotland, causing already swollen rivers to burst their banks, deluging towns, flooding 2,000 properties and leaving 60,000 homes without power.
READ FULL ARTICLE HERE