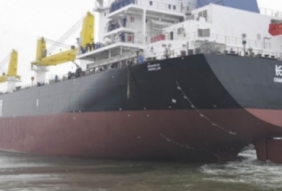 Posted on December 21, 2015
CSC Phoenix, formerly the domestic dry bulk shipping arm of state-run logistics giant Sinotrans & CSC, has resumed stock trading today after nearly two years suspended due to a restructuring. CSC Phoenix's stock was suspended by the exchange in 2014 due to three consecutive years of losses, and the company completed a restructuring through a series of assets disposals at the end of 2014.
According to a release from CSC Phoenix, the company's main business has now been changed from inland river dry bulk shipping to dredging.
In August, Sinotrans & CSC Group signed a share transfer agreement with Tianjin Shunhang Shipping, a private dredging company controlled by Chen Deshun, for the sale of its entire 17.89% equity share in CSC Phoenix for RMB1bn ($161m), making Tianjin Shunhang Shipping the controlling shareholder of CSC Phoenix.
Tianjin Shunhang Shipping had been working on another restructuring of CSC Phoenix by injecting its assets into the company since the takeover. It also listed the 55 of the company's old river vessels for sale at a total value of RMB10.88m in October as part of the efforts to optimise its fleet.