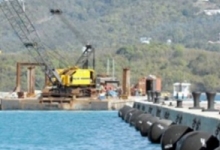 Posted on August 24, 2015
By Lauren Krizansky, Daily News Staff
Crown Bay dredging will continue through the first week of September while the V.I. Port Authority starts and follows through with several projects.
At its regular monthly meeting Wednesday, the Port Authority board unanimously approved spending $540,000 for 24 more work days to complete the bond-funded East Gregerie Channel project, bringing the cost to $3 million.
The Port Authority's Project and Operations Committee recommended lengthening the contract with Orion Marine Construction to avoid at least a four-month delay to contract with a new firm and additional mobilization costs, according to Dale Gregory, the Port Authority's engineering director.
READ FULL ARTICLE HERE