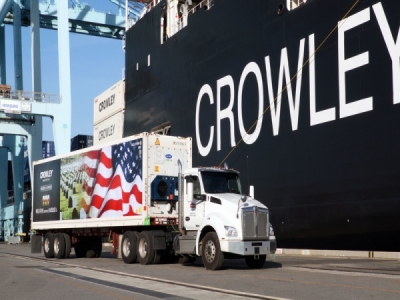 Posted on November 10, 2020
Company Donates Full Transportation to Honor Veterans and Military During Holidays
(JACKSONVILLE, Fla.; Nov. 9, 2020) ­– Continuing its dedication to honoring and serving the U.S. military and veterans, Crowley will be the official sponsor at the Puerto Rico National Cemetery for National Wreaths Across America Day in December.
Crowley will donate the ocean and land transportation services to deliver thousands of wreaths to honor deceased members of the military buried at the national cemetery in Bayamón, Puerto Rico, as well as the Atlantic Gardens Veterans Cemetery in Aguadilla. This will include truck pick-up and freight transportation from the Wreaths Across America facility in Maine to Jacksonville, Fla., and ocean shipping from there to the island aboard a Crowley Commitment Class ship dedicated to serving Puerto Rico. Additionally, Crowley will provide transportation of wreaths for the ceremony at the Jacksonville National Cemetery in Florida.

"This is an opportunity to show our thanks and appreciation for the unending contributions and sacrifices of those who have served our country along with their families in Puerto Rico and beyond," said Crowley's Salvador Menoyo, vice president, Puerto Rico and the Caribbean, a native of the island. "As the longest serving logistics company in the trade between the U.S. mainland and Puerto Rico, we could not do what we do as a company without the service of these men and women throughout our history and to our current day."
Crowley will dedicate a specially wrapped, refrigerated container unit honoring the Wreaths Across America mission, joining two units created as part of the company's support last year. Crowley's overall support is estimated at more than $40,000, including $20,000 donated from its Crowley Solutions business unit and the Crowley Cares Foundation.
"Crowley's commitment to the mission of Wreaths Across America and the local community in Puerto Rico is something that all their employees and customers should be extremely proud of," said Don Queeney, director of transportation, Wreaths Across America. "Last year, they stepped up when we were in need and went above and beyond to ensure as many veterans as possible were honored. We are grateful for their willingness to help us move the mission again this year and look forward to a continued partnership."
Members of the community and business partners may contribute to Wreaths Across America by visiting this page: www.wreathsacrossamerica.org/crowley.
Every day, Crowley serves our U.S. warfighters around the globe with freight, energy, technology and marine services to support our nation's defense," said Shiju Zacharia, senior vice president and general manager, Crowley Solutions. "So, continuing our support of Wreaths Across America fits our mission to the core. We are proud to honor the contributions of these brave service members past and present who have protected the freedoms we enjoy this holiday season."
Fresh balsam veterans' wreaths will be placed in support of National Wreaths Across America Day on Saturday, Dec. 19, in accordance with appropriate health and safety measures due to the pandemic. Wreaths Across America leads ceremonies around the world to honor U.S. service members during the holiday season. Its mission is to: remember our fallen U.S. veterans; honor those who serve; and teach children the value of freedom.
Crowley's leadership in Wreaths Across America began in 2019, when the company transported thousands of wreaths to Puerto Rico to expand the opportunity to honor veterans and service members there, as well as to other U.S. locations. This video highlights the contributions by the company and its team members.
About Crowley
Jacksonville-based Crowley Holdings Inc., a holding company of the 128-year-old Crowley Maritime Corporation, is a privately held family- and employee-owned company that provides worldwide logistics, government, marine and energy solutions. Crowley operates with four business units. Crowley Logistics is a full-service end-to end supply chain and managed transportation division that also includes ocean liner cargo services utilizing some company-owned vessels. Crowley Shipping encompasses ownership, operations and management of conventional and dual-fuel (liquefied natural gas) vessels, including tankers, container ships, multipurpose vessels, tugboats and barges; engineering, project management and naval architecture; and Crowley LNG, which provides LNG distribution, engineering and related services. Crowley Fuels provides petroleum transportation, distribution and sales primarily throughout Alaska. Crowley Solutions focuses on global government services and program management, government ship management, expeditionary logistics and government-oriented freight transportation services. Additional information about Crowley, its subsidiaries and business units may be found at www.crowley.com.
Media Contacts:
David DeCamp
Manager
Corporate Communications
Crowley Maritime Corp.
Tel: (904) 727-4263
David.DeCamp@crowley.com
Mark Miller
Vice President
Corporate Communications
Crowley Maritime Corp.
Tel: (904) 727-4295
Mark.Miller@crowley.com
Source: crowley