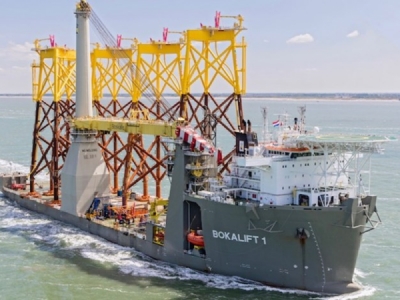 Delays mean some revenue in the business unit is deferred until later this year and 2021. [Image: Boskalis]
Posted on November 10, 2020
Several activities in Boskalis' heavy lifting and offshore wind business unit have been delayed in part because of Covid-19 resulting in a deferral of revenue and vessel utilisation until later this year and 2021.
However, the Dutch company said in its third quarter results that the subsea services and marine survey unit increased revenue compared with the first half of the year. However, it did not provide any figures.
Subsea services and marine survey have been busy in recent months with campaigns along the US east coast for the development of offshore wind farms, it said.
The utilisation of the heavy transport vessels and crane vessels was at a lower level compared to the first half of the year, whilst the use of the diving support vessels, survey, cable-laying and fallpipe vessels was stable or higher.
Overall, the company said revenue was virtually stable compared with the quarterly average of the first half year, also adjusted for currency effects, acquisitions and divestments.
Boskalis said the Covid-19 pandemic and its effects are expected to continue to be felt in the coming months.
"Although it is impossible to predict the extent and duration of the impact, Boskalis has a strong basis with its well-filled order book and extremely sound balance sheet," the company said.
It added: "While it was already challenging to keep projects operational outside Europe, it has also become increasingly complicated to do this within Europe.
"Nonetheless, in the past quarter Boskalis succeeded reasonably well in the execution of projects and keep the vessels occupied."
Boskalis said that at the end of September the order book stood at €4.4bn, slightly lower than at the end of June.
Contracts worth over €0.3bn were acquired in the third quarter.
"Clients in many cases are still moving ahead with tendering procedures for new projects, however due to Covid-19 these processes take longer than usual," the company said.
Boskalis said it maintains its earnings outlook for 2020.
"Barring unforeseen circumstances the 2020 EBITDA, adjusted for the extraordinary charges taken in the first half of 2020, is expected to match the level achieved in 2019," it said.
The company achieved EBITDA of €376m last year.
Source: renews.biz