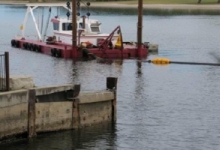 Posted on July 30, 2015
By Luis Feliu, Echo NetDaily
Byron Shire Council has called on the state government to defer any dredging of the Brunswick Heads boat harbour and navigation channels, and will refuse to allow council's boat ramp to launch the dredge vessel till questions on the works have been answered.
Council yesterday moved an urgency motion calling on lands and water minister Niall Blair to answer questions about the controversial dredging works, scheduled to start later this month.
Concerns have been raised by councillors that the process in approving the dredging works is very flawed and locals, including boaties, say it's a massive waste of taxpayer money which will not help improve navigation safety.
READ FULL ARTICLE HERE