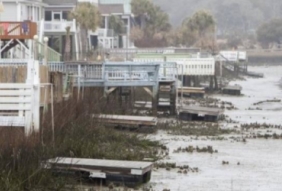 Posted on December 9, 2015
By Audrey Hudson, MyrtleBeachonline
The North Myrtle Beach City Council on Monday night unanimously approved a first reading of an ordinance defining the Cherry Grove Improvement District where property owners will be required to pick up a $16 million tab for two dredging projects to make canals navigable once again to the Atlantic Ocean.
The council met last week to consider the nearly 200 objections from property owners who say they should be excluded from the Cherry Grove Improvement District and not forced to pay a special assessment as high as $23,596 total over 10 years.
The new district excludes 25 properties, leaving the city to foot the bill for an estimated $600,000 of the dredging project's price tag. But Pat Dowling, spokesman for North Myrtle Beach, says that isn't all the city has or will pay for to get the project going.
READ FULL ARTICLE HERE