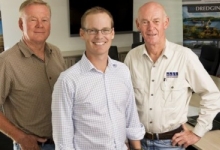 Posted on August 10, 2015
SUNSHINE Coast-based dredging and civil construction company Hall Contracting has won a $27 million contract to carry out remediation work at Energy Resources of Australia's Ranger Uranium Mine in the Northern Territory.
The project will involve operating and maintaining the mine's cutter suction dredge to safely remove and transfer approximately 26 million cubic metres of mine tailings to a mined-out pit for long-term disposal in accordance with statutory requirements, said Hall Contracting managing director Cameron Hall.
The dredging operations would be staged over a six year period, with works scheduled to commence in the third quarter of 2015, he said. About 15 specialist staff will carry out the project on-site, with support from the company's head office in Buderim.
"We will be calling on our existing team members to manage operations and also hiring a number of other skilled workers to work on the project in the Northern Territory," Mr Hall said.
He was "thrilled" to be working on the large-scale project and looked forward to commencing operations in the coming months, he said.
Hall Contracting has been in operation for more than 65 years and has undertaken dredging projects all over Australia, South East Asia and the Pacific Islands. Its fleet of 10 cutter suction dredges makes the company Australia's largest dredging contractor, with offices on the Sunshine Coast as well as in Brisbane, Fiji and Malaysia.