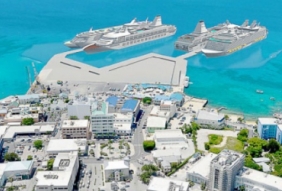 Posted on September 15, 2015
By Charles Duncan, Cayman Compass.com
The National Conservation Council has criticized the cruise berthing proposal for George Town harbor, citing concerns with the economic costs and environmental damage.
The cruise port proposal calls for berthing facilities large enough to handle the Oasis-class passenger ships that currently cannot stop in Cayman, but the new dock would require moving or destroying parts of the reefs off the George Town waterfront.
The council was formed late last year under the 2013 National Conservation Law, which stipulates that every government entity except Cabinet shall "consult with the Council and take into account any views of the Council before taking any action" it feels "would or would be likely to have an adverse effect on the environment generally or on any natural resource."
In their statement released Thursday, Council members expressed major concerns in two areas. "The economic costs associated with unavoidable environmental damage may exceed the long-term economic benefits that can be reasonably expected from the proposed port development," they wrote.
READ FULL ARTICLE HERE