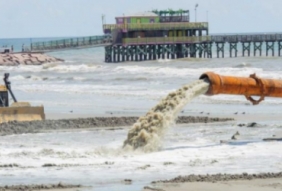 Posted on November 19, 2015
By Harvey Rice, Chron
The final load of sand is expected to be pumped onto Galveston's newest beach this week, marking the end of the largest beach reconstruction project ever attempted on the island.
"We will be pumping another day or so," said Tricia Campbell, U.S. Army Corps of Engineers project manager.
The Great Lakes Dredge & Dock Co., under contract to the Army Corps of Engineers, in August began hauling sand from Corps of Engineers dredging operations in the Houston Ship Channel to Galveston.
READ FULL ARTICLE HERE