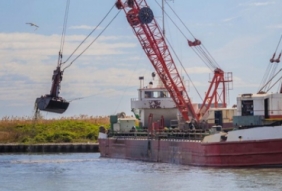 Posted on December 7, 2015
MP News reports that a business case for expanding the Port of Hastings should include compensation the owners of property affected by dredging in the bay.
Experts estimate 24 million cubic metres of spoil will be dredged from alongside wharfs and in shipping channels, severely affecting Western Port's marine environment and increasing coastal erosion.
The call to establish a compensation fund was included in a submission by the Preserve Western Port Action Group (PWPAG) to a select committee hearing into the state government's proposed leasing of the Port of Melbourne.
Funding for the government's plan to reduce the number of rail level crossings is expected to come from the 50-year lease, which effectively rules out development of a container port at Hastings.
PWPAG chairman Jeff Nottle said any business case for expanding the port at Hastings "needs to include all the costs that impact on the region".
These impacts included "increased erosion and sediment flows arising from the dredging in a very high tidal flow environment" and the acceleration of erosion "particularly in the north of the bay and on the north shore of Phillip Island".