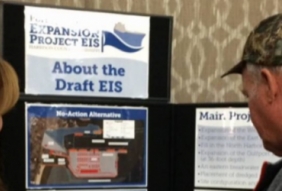 Posted on December 9, 2015
By Anita Lee, SunHerald
The U.S. Army Corps of Engineers needs to finish its homework before ending the public's chance to comment on a study that assesses the environmental impact of another proposed port expansion, community advocates said at a hearing Tuesday night.
The corps held the hearing as part of its public-comment period, which runs through Monday, on the port's plans to fill 282 acres of water bottoms to expand the east and west piers and north harbor. The proposal includes dredging for a turning basin and adding a breakwater, both off the East Pier.
Community groups fear additional truck and rail traffic would create unacceptable levels of air pollution in minority neighborhoods, including the 28th Street Elementary School. They also question port plans to elevate the expanded pier areas, which would extend south into the Mississippi Sound off the existing piers, to 25 feet above sea level.
READ FULL ARTICLE HERE