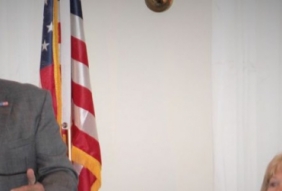 Posted on October 26, 2015
By Johanna Hovik, Cape May County Herald.com
Cape May County Chamber of Commerce hosted a dredging forum Oct. 19.
Speakers included Freeholder E. Marie Hayes, U.S. Rep. Frank LoBiondo (R-2nd), Lou Chiarella (Habitat Conservation NOAA), Sam Reynolds (Army Corps Engineers), and Mark Davis (NJDEP). They discussed the future dredging needs of the county.
Local fishermen, marine organizations, marina owners, and concerned citizens packed the Stone Harbor Golf Club with concerns about dredging needs.
Capt. Bob Rush, party boat owner and representative of the United Boatman of New Jersey explained the urgent need of back bay dredging, "At low tide boats are running aground and cannot even get out of marinas".
READ FULL ARTICLE HERE