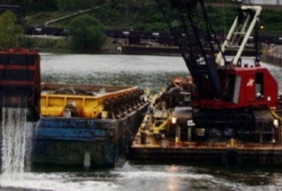 Posted on October 14, 2015
By James F. McCarty, Cleveland Connects
The Port of Cleveland has taken a big step toward solving its expensive dredging responsibilities, announcing today that it sold its first load of Cuyahoga River sediment to a construction company.
Great Lakes Construction Co. bought the equivalent of 300 dump truck loads of sediment from the Port and its partner — the Kurtz Bros. landscaping company — for use in the Ohio Department of Transportation's Lakeland Boulevard project in Euclid.
Port President and CEO Will Friedman said the sediment sale demonstrates that a market exists for the reconstituted waste product.
READ FULL ARTICLE HERE