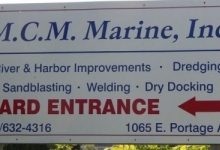 Posted on August 10, 2015
By Scott Brand, Sault Ste. Marie Evening News
A proposal to rezone the MCM Marine, Inc. property from Tourist to a new designation — Marine Services — inched ever closer Monday evening as the Sault Ste. Marie City Commission unanimously moved to put this matter before the public at its Aug. 3 session.
The controversial parcel has generated both supporters and detractors over the last year or so.
In one camp, there are a number of local residents who have expressed the opinion that the property is an eyesore and should not be re-zoned until it is cleaned up and either fencing or vegetation is in place to provide a more scenic waterfront.
READ FULL ARTICLE HERE