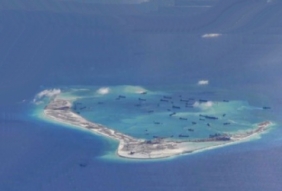 Posted on September 28, 2015
By Ben Blanchard, Reuters
China said on Thursday it will host defence ministers from the Association of South East Asian Nations (ASEAN) next month, amid tension between some of its members and China over the disputed South China Sea.
The Oct. 15-16 informal summit will take place in Beijing and China has invited the defence ministers of all 10 members, Chinese Defence Ministry spokesman Wu Qian told a regular monthly news briefing.
Chinese Defence Minister Chang Wanquan will have a "deep exchange of views" with participants, he added, without elaborating.
China has overlapping claims with Vietnam, the Philippines, Malaysia, Taiwan and Brunei in the South China Sea, through which $5 trillion in ship-borne trade passes every year.
READ FULL ARTICLE HERE