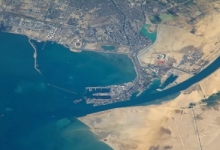 Posted on June 24, 2015
Five of the projects will be in the energy sector, including a power station near the port of Ataqa at the southern end of the Suez canal and work to improve the transmission network.
Another six will deal with transport, in particular an urban railway in north-east Cairo, the expansion of the port of Alexandria, and the electrification of the line that connects that city with the bay of Abu Qir.
A further four schemes will involve direct Chinese investment. These include factories to produce leather, fibreglass and tyres.
Mounir Fakhry Abdel Nour, the minister for trade, signed a framework agreement with representatives from the Chinese trade ministry. More detailed finance agreements will be concluded over the next three months.
Under the terms of the deal, theExport-Import Bank of China will provide financing for the six transport projects. Other potential funders are the China Development Bank, the Industrial and Commercial Bank of China and the China-Africa Development Fund, all of whom have held meetings with representatives from the Egyptian trade and investment ministries.
The agreement represents a huge acceleration in Chinese investment in Egypt. Up until now, the total investment from China in the Egyptian economy was about $535m.
The move is the first result of Egyptian president Abdel Fattah el-Sisi's trip toBeijing in December, during which it was announced that the two countries would enter a "comprehensive strategic partnership".
Sisi also promised that Egypt would seek Chinese investment in its $8.5bnNew Suez Canal project to build a second channel. The new canal has already been incorporated into the route of China's "Maritime Silk Road".
It was announced last week that the new Suez canal will open on 6 August.
The work, which is being overseen by the Egyptian army, is being carried out by the National Marine Dredging Company of the United Arab Emirates, Dutch companies Royal Boskalis Westminster and Van Oord, Belgium's Jan de Nul Group and Deme Group and American contractor Great Lakes Dredge and Dock Company.