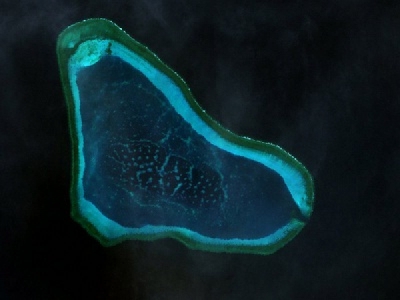 Posted on September 11, 2016
The situation in Scarborough Shoal "has not changed" and China is not building an artificial island in the disputed area, China said in a statement on September 7, 2016.
"There are no dredging or building activities there," said the Chinese Embassy in Manila, dismissing speculations that barges spotted by the Philippines in the West Philippine Sea may be there to support the construction of new structures.
A number of Chinese Coast Guard vessels patrol the waters off Scarborough Shoal (Huangyan Dao) to enforce the law, China said, and some Chinese fishing boats are also in the area.
Scarborough Shoal, located near Zambales province, is known as Panatag Shoal or Bajo de Masinloc in the Philippines. It is a traditional fishing ground of Filipino and Chinese fishermen.
Last week, President Rodrigo Duterte said he received intelligence reports that there seemed to be new sightings of barges in the vicinity of the shoal, which is being claimed by the Philippines, China, and Taiwan.
"What I want to know is, are there any additional construction going on especially in the area of Masinloc?" Duterte had said.
China also clarified that Ambassador Zhao Jianhua has yet to meet with Defense Secretary Delfin Lorenzana, contrary to reports that Lorenzana quoted the Chinese ambassador as saying "the vessels are transferring sand from one area to another."
China expressed willingness to work with the Philippines to "enhance mutual trust and promote development of bilateral relations."
Earlier on Wednesday, the Philippine government said that "back-channel talks" were underway to clarify the alleged presence of Chinese ships near the disputed islands in the West Philippine Sea.
"It's being clarified. It's a back and forth," Presidential Spokesperson Ernesto Abella said in a press conference in Vientiane, Laos, where Duterte is meeting with Southeast Asian leaders including Chinese Premier Li Leqiang.
An international tribunal invalidated most of China's claims in the South Sea last July.
Source: ABS-CBN News