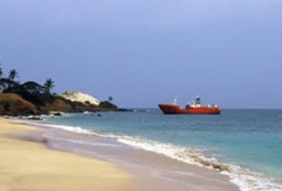 Posted on October 15, 2015
The China Harbour Engineering Company (CHEC) will co-finance and build a deepwater port in São Tomé and Príncipe, the São Tomé government said Monday in São Tomé.
The government statement signed by the Minister of the Presidency, Afonso Varela, said "CHEC intends to apply at least US$120 million" in this project, which has an estimated cost of just over US$800 million and is scheduled for completion in 2019.
According to the document, the Memorandum of Understanding between the parties was concluded a week ago, and the China Harbour Engineering Company is responsible for planning, design and construction.
The port will be built in phases, with the completion of the first scheduled for 2018, according to the document adding that this is "a world-class facility and will be developed to serve the logistics needs of the Gulf of Guinea."
Incorporated in 1980, CHEC, a subsidiary of the China Communications Construction Company Group Ltd (CCCC), is a conglomerate of engineering services with an annual turnover of over US$5 billion and over 60 representatives in 80 countries.
The first deepwater port in the archipelago will be built in the Fernão Dias area, Lobata district, 12 kilometres from the capital of São Tomé and Príncipe.
Without a deep-water port, loading and unloading of ships is currently done at sea using barges. (macauhub/CN/ST)