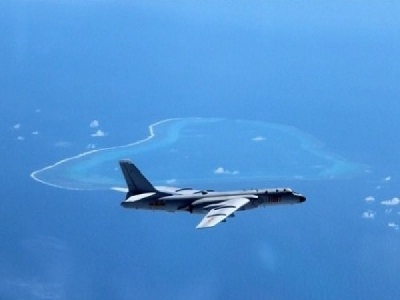 Posted on September 8, 2016
By Bill Gertz, ASIA TIMES
If reports about the presence of Chinese dredging ships near Scarborough Shoal are true, Beijing may be planning to start island-building on the disputed reef to turn it into another military outpost. The U.S. Pacific Command should order a military air and surface reconnaissance operation to check on the ships and to learn their intentions. This will give a message to China that the U.S. will actively oppose regional military hegemonism.
Photos of Chinese ships deployed near a key disputed reef in the South China Sea surfaced over the weekend as U.S. and Chinese leaders met at the Group of 20 nations summit and discussed maritime disputes.
The Philippines Defense Ministry published photos of 11 Chinese ships near Scarborough Shoal that include vessels that some reports indicated appear designed for dredging operations – a key indicator Beijing is ignoring U.S. and international calls for a halt to island-building on disputed reefs and islands.
A Pentagon official confirmed that the Chinese have stepped up the number of ships and maritime patrol craft in the vicinity of Scarborough – a large reef claimed by China and Philippines and close to Subic Bay where U.S. warships will be deployed in the future in support of an upgraded Washington-Manila defense pact. But the official said it could not confirm Philippines reports they included dredging ships.
The 11 Chinese ships deployed around the northern edge of the shoal include four Chinese maritime security ships and seven blue-hulled ships that could be either fishing-related ships or possibly construction and dredging vessels. One of the ships is a fishing vessel.
The photos were taken Saturday by a Philippines surveillance aircraft and made public as the G-20 summit began in Hangzhou, China.
The increase in Chinese ships has set off alarm bells within the Pentagon, which is closely monitoring the activity in the islands.
Pentagon intelligence agencies were alerted to Chinese plans for dredging and construction on Scarborough Shoal in December. That's when reports surfaced that a Chinese company had been contracted to build an airport, government and residential buildings, a harbor and a resort.
Additionally, China revealed in December it will build a new and larger dredging vessel to be completed by July 2017 that likely will be for Scarborough Shoal. The dredger will be similar to another vessel that was used for large-scale island building in the Spratlys and other locations.
Chinese ship activity around Scarborough Reef began increasing last month when more than a dozen maritime security vessels were spotted. In the past, China had sent one to three ships to the disputed shoal that was seized by China from the Philippines in a 2012 takeover.
Over the past several years, China has built some 3,200 acres of new islands in both the Spratlys, in the southern part of the sea, and in the Paracels, in the northern part, where Vietnam has claimed the chain as its maritime territory.
Pentagon officials believe the Chinese are preparing to build a triangle of military bases stretching from Subi Reef, Fiery Cross Reef, and Mischief Reef in the south, and eventually Scarborough Shoal.
Because of its closeness to Subic Bay in the Philippines, the Pentagon has been more vocal in opposing construction on Scarborough.
If the disputed reef is militarized, it will improve China's air and naval power projection capabilities against U.S. forces. The base also would bolster Chinese "anti-access, area-denial" capabilities designed to force the U.S. military out of the region. It also would provide the key base for China's imposition of an air defense identification zone over the South China Sea.
Adm. Harry Harris, commander of the U.S. Pacific Command, has said Chinese island-building is part of an effort to militarize the South China Sea. Advanced fighters have been deployed along with anti-ship and anti-aircraft missiles on some of the islands. "They're changing the operational landscape of the South China Sea," Harris said in February.
The White House made no mention of whether the increasing tensions in the South China Sea were discussed during the meeting between U.S. President Barack Obama and Chinese leader Xi Jinping on Sunday. A White House statement said the president emphasized the United States' "unwavering commitment" to the security of its Asia Pacific treaty allies.
"The president reaffirmed that the United States will work with all countries in the region to uphold the principles of international law, unimpeded lawful commerce, and freedom of navigation and overflight," the statement said, without mentioning the recent U.N. Permanent Court of Arbitration that ruled China's expansive South China Sea claims had no basis in international law.
Obama also made no mention of maritime disputes with China in a press conference Monday. But he noted "maritime security" was among the United States' differences with China that were discussed in meetings with the Chinese leader.
American concerns about a Chinese takeover of the sea, a strategic transit route for trillions of dollars in annual international trade, prompted U.S. Defense Secretary Ash Carter to suggest the U.S. military would adopt tough measures.
Asked about a potential military buildup on Scarborough, Carter said June 4: "I hope that this development doesn't occur because it will result in actions being taken by both United States and by others in the region which would have the effect of not only increasing tensions but isolating China."
Two weeks ago, Carter joined with India's Defense Minister Manohar Parrikar to sign a military logistics agreement that is clearly intended to signal China that U.S. and Indian forces will work more closely in countering Chinese aggression. It will facilitate port visits and maintenance for naval vessels in the Indo-Pacific.
Analysts say the arrival of the Chinese ships at Scarborough appears timed to the summit and poses a direct challenge to the United States and regional allies who are opposing China's creeping hegemony.
"The Philippine Department of National Defense release of imagery showing up to 11 Chinese ships within three miles of Scarborough Shoal is disturbing as it indicates the PRC may have decided to begin preparations for reclamation," said retired Navy Capt. Jim Fanell, a former Pacific fleet intelligence chief.
The naval deployment should prompt the U.S. Pacific Command to order a comprehensive and sustained military air and surface reconnaissance operation to check on the ships and to learn their intentions.
"These results should be made available to the U.S. public and international community immediately and if it is determined that China is indeed beginning preparations for reclaiming Scarborough Shoal, then the U.S. Pacific Fleet should dispatch Seventh Fleet ships and aircraft to prevent our treaty ally from being abused even more than they already have been," Fanell said.
The American response so far to what amounts to a covert Chinese takeover of the South China Sea has been limited to expressions of concern and voicing support for allies, with few shows of military strength.
The presence of Chinese ships and possibly dredging ships near Scarborough should produce a greater response, including flights by P-8 maritime patrol aircraft warship and submarine deployment to the region as a strategic warning to Beijing that the United States will not stand idly by and will actively oppose regional military hegemonism.
Source: ASIA TIMES