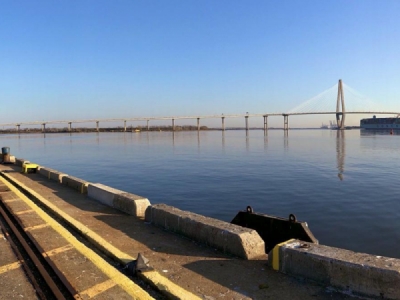 Posted on February 25, 2019
The COSCO Development container ship sails toward the Ravenel Bridge after visiting Wando Welch Terminal while another cargo vessel is docked at Columbus Street Terminal at the Port of Charleston. Provided/State Ports Authority
So many strings are attached to a federal loan program aimed at spurring investments at U.S. seaports that the South Carolina's maritime agency is turning to Plan B: It will return to the debt market to finance improvements needed to keep big container ships visiting the Port of Charleston.
"The federal government says it's very attractive, but when you look under the hood it's not very attractive," Jim Newsome, the State Ports Authority's president and CEO, said of the initiative created by the Transportation Infrastructure Finance and Innovation Act.
Newsome said the program has "so many constraints and caveats" that it would be difficult for any U.S. port to qualify for the benefits.
So the authority — which issued $300 million worth of revenue bonds last year — plans to seek another $300 million in debt by early 2020. The money would go toward completion of the first phase of a new container terminal in North Charleston.
The authority has been on a capital improvement spending spree in recent years to pay for the terminal, wharf improvements, cranes and other equipment needed to service ships carrying 14,000 or more cargo containers between Asia and East Coast ports.
All told, the authority has taken on about $1 billion in debt against roughly $2 billion in assets.
Moody's, the credit-rating agency, said the spending will keep Charleston competitive with ports in Georgia and Virginia, which are also investing billions on upgrades.
While Moody's acknowledges the spending will give the SPA less financial flexibility, it calls the debt plan manageable and gave the 2018 bonds a stable outlook.
On Wednesday, the authority's board of directors approved $40 million worth of debt against those bonds to help pay for new ship-to-shore cranes at the Wando Welch Terminal in Mount Pleasant.
SunTrust Bank, which financed the crane purchases, will hold the debt, which has a 3.16 percent interest rate. The bank earlier loaned the authority an additional $125 million for cranes, and it has a security interest in the equipment.
Revenue backing the authority's bond debt has been on the rise, as bigger vessels bring double-digit cargo increases to Charleston's terminals. The SPA's operating revenue is tracking 18.7 percent ahead of last year while cash flow is up 19.9 percent. Both are ahead of the authority's budget plan.
Newsome had been hoping to opt for a federal loan over more bond debt, but frustration over the government program has eliminated that possibility.
Source: The Post and Courier