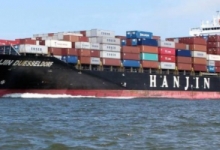 Posted on July 24, 2015
By Bruce Smith, The Herald
The planned half-billion dollar deepening of the Charleston Harbor shipping channel has passed another milestone, and final approval of the plan is expected from U.S. Army Corps of Engineers by early fall.
Three years ago, the Obama administration designated Charleston and four other harbor projects as nationally significant and allowed required studies to be expedited.
That has already saved years and millions of dollars on the Charleston project. And new studies to be conducted in the coming months could lower the estimated $509 million price tag.
READ FULL ARTICLE HERE