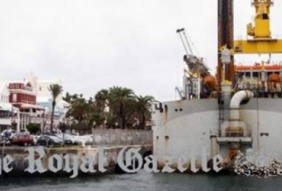 Posted on October 28, 2015
The dredger 'Niccolo Machiavelli', named after the famous 15th-century Italian politician and writer, drew attention when it docked in Hamilton early yesterday morning, ready for dredging work that will be carried out on the North Channel.
The vessel is 452ft long and 85ft wide, with an average speed of 13 knots. Its unique design means the craft performs dredging by simultaneously cutting, drilling and pumping sand, hard clay, rock and other seabed sediments.
Work is expected to begin on the channel by the end of the month.