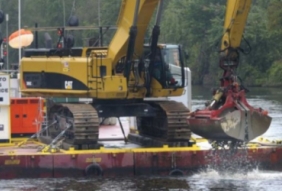 Posted on October 20, 2015
By Brian Nearing, TimesUnion.com
The cloudy future of the PCB-tainted Champlain Canal just got a little more uncertain. The state Canal Corp. has scuttled its 3-year-old plan to dredge toxic PCBs from the crippled canal on the Hudson River and is crafting a new plan for review by the federal government.
Canal officials met in July with officials from the Army Corps of Engineers to reveal "substantial changes" to a 2012 canal dredging permit application to the Corps, said Corps public relations specialist Hector Mosley on Friday.
Due to those changes, which Mosley said he could not describe, the state must start its canal dredging permit process over again, with a new application outlining the new plan. "We have not received any application at this time," said Mosley.
READ FULL ARTICLE HERE