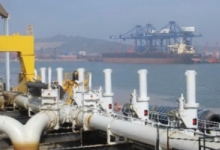 Posted on June 11, 2015
By Dexter Yan, IHS Maritime 360
China Communications Construction Corporation (CCCC) has set up a dredging group, the first of a series of planned spinoffs as it develops into a holdings companywith subsidiaries across various sectors.
Officially founded on 10 June in Shanghai, CCCC Dredging (Group) is registered in the Shanghai Free Trade Zone with a registered capital of CNY11.7 billion (USD1.9 billion).
CCCC will become a holdings company controlling listed groups focusing on specific sectors, said Zhou Jingbo, chairman of CCCC Dredging (Group).
READ FULL ARTICLE HERE