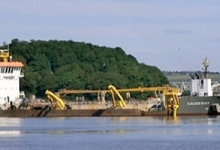 Posted on June 29, 2015
Dredging maintenance operations are underway on Waterford Estuary as Causeway is kept busy to ensure shipping lanes are of the required depth,writes Jehan Ashmore.
Irish Dredging Ltd which is an agent for Dutch based global maritime services companyBoskalis have deployed the 4,320 tonnes Causeway, a trailing suction dredger hopper on a contract with the Port of Waterford Company. The 2013 built dredger is carrying out a continuous 10-day dredging campaign from Belview seawards.
Causway at 92m long and a capacity for 4,200m3 is one of the largest dredgers to operate in Irish waters. The dredged spoil is been discharged at an approved dumping site south-west off Hook Head.
Dredging works began last week and among the shipping traffic this afternoon at the mouth of Waterford Estuary is P&O Cruises smallest fleet member, Adonia of 30,000 tonnes.
The Bahama-flagged visitor with a 710 passenger capacity is on an anchorage call off Dunmore East.
As previously reported on Afloat.ie, she represented the first P&O Cruises caller to Killybegs with a visit last week.
Adonia's crew of 385 will be preparing the 180m cruiseship as she is set to depart early this evening on a passage to St. Peter Port, Guernsey.
Also anchored off the Irish harbour are a pair of general cargoships. The Elbetor bound for New Ross and Imina which is awaiting orders having sailed downriver from the inland Co. Wexfordport.