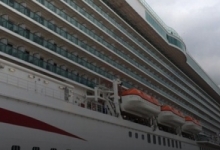 Posted on July 29, 2015
By Brendan O'Loughlin
The Captain of one of the largest cruise ships to dock at Dublin Port has welcomed approval for an upgrade of the area.
The €230M redevelopment will include new berths and dredging the mouth of the Liffey to make it deeper.
At 330 metres long, the Britannia is one of the larger vessels to come into the city – something that wasn't really possible until this year.
READ FULL ARTICLE HERE