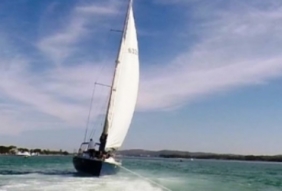 Posted on November 19, 2015
Lake Macquarie's marine rescue organisation says there needs to be more scientific research into dredging the Swansea Channel to prevent more money being wasted.
In February, the state government completed a $2.5 million dredging project to ensure a safer and more reliable navigation channel for boaters.
But despite creating a 60 metre wide channel, more than three metres deep, boats are already starting to run aground at a rate of about one each day.
Deputy Unit Commander at Marine Rescue Roger Evans said not enough is known about why the channel silts up so quickly.
"It's slowly drifting back that way," he said.
"It doesn't seem to be a wise investment.
"We need to know more about what causes it and either come up with a different strategy or it's going to need dredging full time.
"It really needs a scientific approach to look at the damn thing," he said.