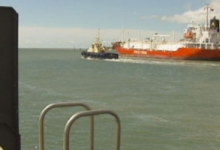 Posted on August 10, 2015
By Kristy Sexton-McGrath
Business leaders in Cairns have told a state parliamentary committee the far north Queensland city should be exempt from a new bill that limits port expansion.
A public hearing was held in Cairns yesterday to take submissions on the State Government's Sustainable Ports Development Bill.
The bill is designed to protect the Great Barrier Reef from dredging, dumping and port expansion.
READ FULL ARTICLE HERE