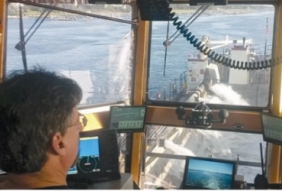 Posted on September 28, 2015
By Tricia Vance
North Carolina's new budget includes more money to keep the state's shallow inlets navigable. The General Assembly agreed to increase the share of the state gas tax that goes toward dredging inlets less than 16 feet deep, including Carolina Beach Inlet.
"In terms of dredging, we are going to be in extremely good shape in North Carolina," said Tom Reeder, assistant secretary for the environment with the N.C. Department of Environmental Quality. "Our inlets will be dredged." (As part of the 2015-17 state budget legislation, the General Assembly officially changed the name of the environmental agency formerly known as the Department of Environment and Natural Resources.)
A full 1 percent of the gas tax proceeds will be dedicated to shallow-draft dredging, compared with one-sixth of a percent previously. In addition to a share of the gas tax, a small percentage of boat license and certification fees goes into the fund, said Darren England, an engineer with the Division of Water Resources.
READ FULL ARTICLE HERE