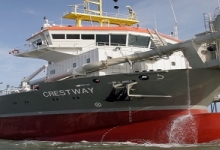 Posted on July 8, 2015
By Tony Slinn
Dutch dredging major Royal Boskalis Westminster has been awarded a contract from the Defence Infrastructure Organisation (DIO) of the UK Ministry of Defence for capital dredging of the approach channel to the port of Portsmouth.
The contract is worth EUR35 million (USD39 million) and dredging is due to commence in 2H/2015.
A Royal Navy base since 1194, Portsmouth is home to many of its surface ships, including destroyers, frigates, mine countermeasures, and fishery protection squadrons.
READ FULL ARTICLE HERE