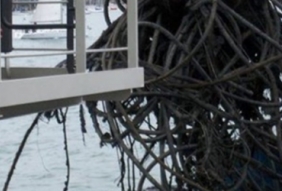 Posted on November 24, 2015
Marine contractor Boskalis Westminster has deployed a crane barge to begin clearing debris from Portsmouth Harbour ahead of dredging work.
In June, the Defence Infrastructure Organisation (DIO) awarded Boskalis Westminster a £31m contract to prepare the naval harbour for the arrival of Queen Elizabeth Class carriers.
While the dredging vessel is not due to start its activity until December, the company's crane barge Strekker has begun pulling out obstructions.
As the new generation of carriers will be significantly larger than any ships that currently use Portsmouth Harbour, Boskalis Westminster will dredge the approach channel, inner harbour area and berth pocket. Approximately three million cubic metres of clay, sand and gravel will be removed from the harbour by the trailing suction hopper and backhoe dredgers.
Captain Iain Greenlees, head of infrastructure at the naval base, said: "The start of the preparatory dredging works marks another important milestone in delivering a naval base that's ready to support the new aircraft carriers. We are working hard to ensure the naval base is ready to receive the carriers by the end of next year."