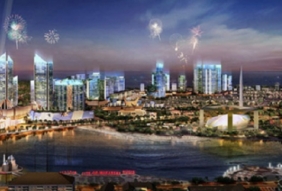 Posted on March 29, 2016
Dutch dredging firm Boskalis has secured a $90 million contract for the construction of five artificial islands for the Centre Point Indonesia / CitraLand development in Makassar.
The reclamation project will begin in several months and is expected to take two years. Boskalis will deploy one trailing suction hopper dredger, plus associated equipment.
The islands will total to about 185 acres and their construction will entail moving some 300 million cubic feet of sand.
About two thirds of the overall planning area, which includes the islands, will go to developers Yasmin Bumi Asri and Ciputra Group for the creation of the CitraLand business district and residential project. The provincial government says that the remainder of the land will be used for public facilities. Ciputra says that it has already secured all required government permits and approvals.
Local opponents say that growing Makassar could use the added acreage – overall, they say the planned developments will increase the size of the city by 20 percent – but that the new hotels, shopping malls and residences will displace local fishing communities.
In a statement announcing the award, Boskalis said that the project "is driven by the necessity to create land to accommodate population growth in a densely populated region."
A Ciputra Group spokesman said that Van Oord, Boskalis International, Jan De Nul, Dredging International, China Harbour, Hai Yin Harbour and domestic firm PT PP all bid on the reclamation phase of the project. Witteveen + Bos and Royal Haskoning DHV provided consulting services for the design phase.