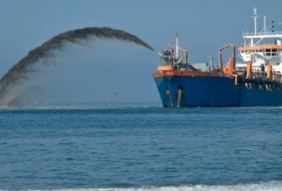 Posted on September 28, 2015
By Larz Bourne, Maritime Journal
The company has been awarded the first phase of the Marker Wadden development by the country's Department of Public Works (Rijkswaterstaat). The project scope includes the construction of an island with underwater landscaping and carries a contract value of €33m, with work commencing early next year.
The initiative for a group of islands (Marker Wadden) has come from the Dutch National Trust (Natuurmonumenten) in cooperation with Rijkswaterstaat. The Marker Wadden will be developed in phases over the coming years and is aimed at restoring the ecosystem in the Markermeer/IJmeer to allow nature to flourish.
Boskalis also submitted the best tender to reinforce over 33km of dike around the Markermeer lake between the towns of Hoorn and Durgerdam, as announced by the Hollands Noorderkwartier district water board (HHNK). The project will be structured according to an alliance contract form under which HHNK and Boskalis, with its partners, will work together to design and construct the reinforcements to ensure the safety of the Markermeer dikes for the next 50 years.
READ FULL ARTICLE HERE