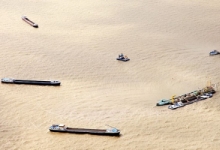 Posted on August 25, 2015
Royal Boskalis Westminster (Boskalis) has reported a net profit of $338.8m in the first half of 2015, a rise of 21% compared to the same period a year earlier when it posted a $279.6m profit.
Revenues in the first half of the year rose 1.6% to $1.73bn compared to H1 2014 of $1.71bn. Results in all three segments were good in addition to which there were a number of (positive) exceptional items.
Dredging & Inland Infrastructure had an exceptionally busy first half from an operational point of view. Good results on the projects in progress, a very high fleet utilisation rate together with relatively low repair costs and a substantial contribution from financial settlements on projects completed earlier all contributed to the good result.Offshore Energy also had a good first half year with high utilisation of the equipment and good project results. In addition, the stronger US dollar made a positive contribution to the result.
READ FULL ARTICLE HERE