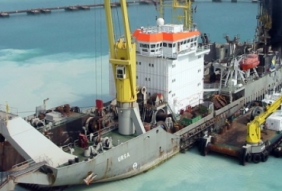 Posted on January 5, 2016
Royal Boskalis Westminster N.V. (Boskalis) has reached a heads of agreement with STRABAG SE for the acquisition of the dredging activities and assets of STRABAG Wasserbau GmbH, formerly known as Möbius Wasserbau.
STRABAG Wasserbau, based in Hamburg, is the market leader in the German dredging sector. The company has an annual turnover of approximately EUR 50 million with a broad array of equipment. The agreed transaction price is EUR 70 million, does not include any goodwill and will be financed from the company's own cash flow.
The transaction is limited to acquiring the equipment, personnel plus a couple of maintenance contracts. The most important assets are two young shallow draft trailing suction hopper dredgers with a capacity of 7,350 m3 each, a large modern backhoe dredger and four self-propelled barges. The technical specifications of the hoppers makes them very attractive for port maintenance, coastal and beach replenishments projects. Through this acquisition, Boskalis strengthens its home market position in Germany. Furthermore, by acquiring the hopper dredgers, the requirement to renew part of the Boskalis dredging fleet in the 6,000 m3 to 9,000 m3 space will be fulfilled.
In view of this acquisition and the current market conditions, Boskalis will be taking a number of aging hoppers, cutters and backhoe dredgers out of service in the course of this year.
It is the intention to close the transaction in the first quarter 2016 subject to the satisfaction of customary conditions.