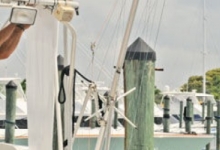 Posted on July 6, 2015
By Anna Harvey, News-Times
A new annual fee for boats in state coastal waters may be coming in 2016, and it has people here concerned of potential negative affects on the boating industry.
Preston Lea, with Carteret Canvas Co., was working on a 36-foot boat at the Morehead City Yacht Basin Thursday and said he felt the proposal is not good idea.
"I think it's going to hurt everyone in the (boat) business," he said, concerning people who buy boats and work on repairing and maintaining boats.
READ FULL ARTICLE HERE