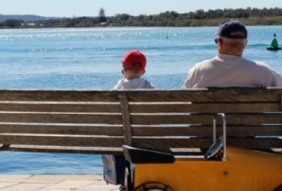 Posted on December 18, 2015
Lake Macquarie boaties are getting a pre-Christmas boost, with work starting today on removing a large sand shoal that has built up in the Swansea Channel.
The shoal has been hindering boats from getting in and out of Lake Macquarie.
This week's dredging work is part of an ongoing maintenance program and coincides with sand tracing study, aimed at determining sand movements in the channel.
The chairman of the Hunter Regional Committee of the Boat Owners Association, Frank Downing said it is perfect timing ahead of Christmas.
"Everybody that I have told who is in the boating world has been highly delighted with this because it's making sure the channel is available and safe to use for the Christmas period," he said.
"I think we can expect a good number of boats up here as the word gets around."
Locals say ongoing maintenance is crucial until the best long term solution is determined.
In recent years there have been calls for a permanent dredge, and Mr Downing says that is still an option.
"Nothing is off the table," he said.
"At the moment it will be probably be the second quarter of next year before we get the results of the sediment studies.
"These take some time to do and further thought will then be given to what the long term solution is."