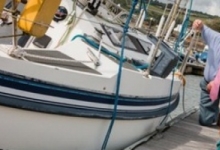 Posted on July 30, 2015
By Llanelli Star, LlanelliStar
BOAT owners in Burry Port are urging the county council to set out a definite strategy to safeguard the future of their beloved harbour.
People have called on the county council to detail their plans to tackle rising levels of sand and silt, which are currently slashing boat owners' time on the water.
This comes after the council's executive board voted to continue annual sand dregding of the approach channel and basin in April, and also requested more detailed costings for dredging the harbour basin to remove the silt.
READ FULL ARTICLE HERE