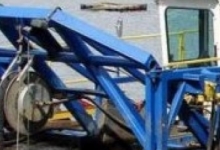 Posted on June 8, 2015
The New York State Parks announced yesterday that the Black Lake Boat Launch in Morristown, St. Lawrence County is about to undergo major improvements.
The boarding dock and other boater amenities will be upgraded with funding from the "I Love NY Waterways" boating fund.
Access from the launch is periodically hampered by seasonal changes in the lake's water depth. The project will improve the boarding dock configuration so it responds to a wider range of water depth, which will extend the useful season for the launch.
Karen Winters, President of the Black Lake Association, said: "The planned dredging of the silt at the end of the ramp and lowering of the current dock will help for now, as the lake is at an unusually low level for this time of year. We look forward to long-term improvements being in place for the 2016 boating season."
Construction is expected to start this fall and be complete by the 2016 boating season.