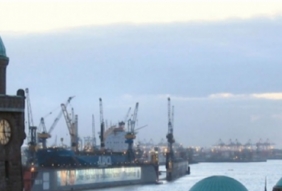 Posted on February 16, 2016
68 gull-billed terns, discernible by their black, gull-like bills, could make or break the future of the port of Hamburg. The creatures – on the red list of most endangered birds – tend to breed 40 miles to the south of the port every summer by the banks of the river Elbe and are the only real European colony of the species left.
Following on from this month's grounding of the 19,000 teu CSCL Indian Ocean, the urgent need to dredge the Elbe if Hamburg is to compete in the ultra large container vessel (ULCV) era, is very clear. Both the federal government and Hamburg's city government are keen to push ahead with plans to deepen the approaches to the port by around 1.6 m.
Germany's main administrative court in Leipzig is now looking at the dredging plans.
Environmentalists are attempting to stop the dredging. They note that according to European Union nature protection laws, the Elbe cannot be deepened if the surrounding natural environment risks being damaged.
The World Wide Fund for Nature (WWF) and two German environment protection agencies have mounted a legal challenge to the plans.
The grounding of the CSCL Indian Ocean has sparked much debate around Hamburg and also on Splash, "CSCL is one of the most valuable customers of the port of Hamburg. Losing this carrier because of physical limitations of the port would be a severe financial and economical setback for the entire region," Splash Opinion writer Tobias Koenig noted.