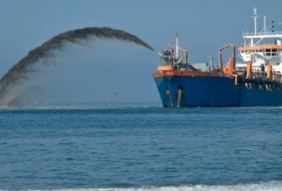 Posted on October 20, 2015
By Titus Zheng, IHS Maritime 360
Malaysia-listed port operator Bintulu Port Holdings has engaged engineering services company Integrated Marine Works (IMW) for maintenance dredging works worth MYR21.9 million (USD5.3 million).
The contract was signed by Bintulu Port, a wholly owned subsidiary of Bintulu Port Holdings, including 6% Goods and Services Tax (GST) in the sum of MYR1.3 million.
Meanwhile, the maintenance dredging works will be conducted at Bintulu Port, Sarawak, Malaysia, over a span of four months, according to the port operator's filing to Bursa Malaysia.
READ FULL ARTICLE HERE