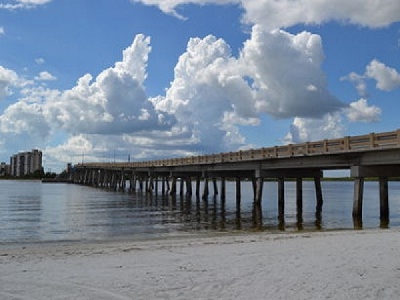 Posted on September 15, 2016
By Jessica Salmond, FortMyers BeachTalk.com
After several years of permitting hoops, the West Coast Inland Navigational District (WCIND) finally got the federal okay to dredge Big Carlos Pass.
Due to sand drifting from beach renourishment projects, the channel between Estero Island and Lover's Key has been getting shallower and tighter.
"During winter, tides are extra low and the pass is almost unusable," said Fish Tale Marina owner, Al Durrett. "It's dangerous."
Big Carlos Pass lays between Estero Island and Lover's Key. The pass has never been dredged, but sand drift from beach renourishment projects is filling the channel, which makes navigation difficult.
Durrett launched an effort with Joanne Semmer of the Ostego Bay Foundation to get the pass dredged three years ago by organizing meetings with stakeholders to raise awareness of the pass's condition for traffic, inviting the Town of Fort Myers Beach, Bonita Springs, Lee County and local residents to discuss the issue.
"It's important to Fort Myers Beach because of all the people who boat here," he said. "You wind up wondering if you could sell a house because the water was too low."
During low tide, some areas of the pass are only two feet under water, Durrett said, costing boaters who run aground thousands of dollars in repairs when trying to navigate Big Carlos.
"There's been a channel there as long as there's been people there," said Justin McBride, WCIND executive director. "But it's never been dredged before."
WCIND's goal is to cut a new channel that's 200 feet wide and 10 feet deep. The extra width will hopefully keep the channel at the proper size for a longer period of time, McBride said.
The scope of the project took time for permitting because it had to prove the project would not be detrimental to the environment; federal agencies had to ensure both endangered marine and land life would not be harmed through the dredging.
Although permits have been issued, WCIND hasn't set a start date for dredging. New Pass, between the dog beach and Bonita Springs, also needs dredging. It's close to getting permits, too, so WCIND is holding off.
"We're going to bid the projects together and have one firm doing both," McBride said.
One firm for both projects will help cut some costs for the dredgings, which will cost an estimated $1.9 million for both. The projects will be funded by WCIND, but its funding comes from property taxes. This project will be paid for via Lee County property taxes alone since both projects are within the county's border, although the district covers Lee, Charlotte, Sarasota and Manatee counties.
McBride said the project is already fully-funded.
Once completed, the need to dredge Big Carlos will become a cyclical issue as sand drifts from north to south and will naturally fill in the channel over time – which is why WCIND is planning to dredge a bigger channel area, to compensate for natural drift.
"We're trying to keep it open," he said.
Lee County Commissioner Larry Kiker, who sits on WCIND's board, praised this next step in the process of getting Big Carlos dredged.
"We've been working on this for years," he said.
Source: FortMyers BeachTalk.com