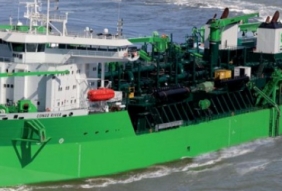 Posted on March 22, 2016
By Arya Dipa, Jakarta Post
A Belgium-based company, Dredging, Environmental & Marine Engineering NV (DEME) is interested in contributing to the development of a new deep-sea port project in Patimban, Subang, West Java, the CEO of Belgian foreign trade agency Flanderts Investment de Trade (FIT), Claire Tillekaerts, said on Thursday.
"DEME is one of many other companies from Belgium wanting to invest in the new port development," Tillekaerts said on the sidelines of Princess Astrid of Belgium's visit to Bandung to witness the signing of a letter of intent between Wallonia, a region in Belgium, and the West Java provincial administration.
DEME, established in 1852, is experienced in developing major ports, such as building infrastructure in Dubai and land reclamation in Singapore, Tillekaerts said.
READ FULL ARTICLE HERE