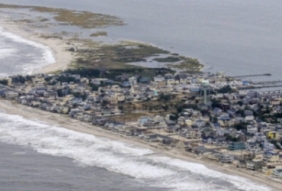 Posted on December 7, 2015
A federal beach fill project that was set to start this winter for southern Long Beach Island left vulnerable after Hurricane Sandy will be stalled until the spring, officials said.
Beach replenishment in Beach Haven and in the Holgate section of Long Beach Township was going to start in January but now may start as late as April, said Stephen Rochette, a spokesman for the Philadelphia district of the U.S. Army Corps of Engineers.
Rochette said the company doing the work, Illinois-based Great Lakes Dredge & Dock Co., informed the Army Corps this week that its two dredges currently working on Long Beach Island will be headed to another part of the country in January for other jobs.
RELATED: LBI beach replenishment to start next month, feds say
He said a third dredge that is currently working on Fire Island in New York and was supposed to join the two dredges on Long Beach Island is also headed to another job.
Great Lakes informed the Army Corps that the dredges would not be back to New Jersey until April, Rochette said.
At that schedule, the company most certainly won't be able to meet the May 22, 2016, completion deadline set in the $128 million contract for all of Long Beach Island, Rochette said.
"We're working with them to see how we can complete the project as quickly as possible," Rochette said. "Our goal is to complete the project as soon as possible."
The Army Corps has been working on several beach replenishment projects after Hurricane Sandy decimated the Jersey Shore in October 2012.
This marks the second delay for the project on the southern end of the island, where Hurricane Sandy reduced narrow beaches to a thin strip of sand. Holgate residents, still recovering from Sandy, have been eagerly awaiting the project.
Work on the southern section was first set to start in the fall but was delayed until January to give Long Beach Township more time to obtain the oceanfront property easements needed for the work.