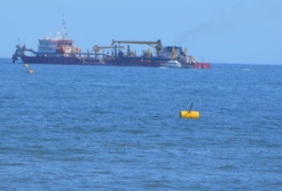 Posted on October 5, 2015
By Claire Lowe, Shore News Today
Beach fill operations in Ocean City's south end are complete, according to the US Army Corps of Engineers Philadelphia District project webpage.
As of 11:45 a.m. Tuesday, Sept. 29, the dredge Liberty Island completed the final portion of the fill from 36th to 59th streets, the latest update on the site states.
The dredge was temporarily stalled due to rough seas for several days, but resumed operations at 10:15 a.m. on Monday, Sept. 28, according to the Army Corps.
READ FULL ARTICLE HERE