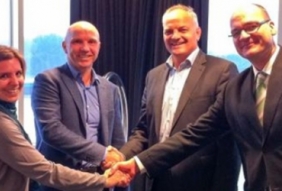 Posted on October 26, 2015
On Thursday 15th October 2015, Van Oord and Atlas Professionals signed a three year frame agreement for the supply of marine and offshore personnel. 33 years ago, Atlas supplied the first candidate to Van Oord, starting the long-standing relationship between these two companies.
Van Oord recently issued a tender for the supply of crew in two segments, marine and offshore, with a keen eye for quality and compliance. After a careful examination of the received bids, Atlas Professionals was one of the preferred suppliers selected to provide professionals to Van Oord for both segments.
"We consider it an honour and a clear sign of appreciation that once again Van Oord has selected us to partner with them in getting the right people to the right place, serving their projects throughout the world." – Marcel Burghouwt, Managing Director of Atlas.
With a presence in 16 countries, Atlas Professionals offers a complete range of specialist recruitment and HR services in the energy and marine industries, that are individually managed to cater to every need.